The Smart Widget combines several features to make your website even smarter
With our new Smart Widget for their own website, SMEs can design their existing website smart and interactive with a few clicks and achieve more customer contact. In your dashboard under Publish > Smart Widget you will find several tabs where you can make settings. We would like to explain which of these are in this support article.
Redirection
Chat Feature
Promotion Banner
Push Notifications
1.Redirection
You can use the redirection when visitors visit your website with their smartphone. These are automatically forwarded to your app. You are free to ask your visitors in advance whether they would like to be forwarded to the app. You can also specify whether Android tablet and iPad users are redirected to your app when they visit your website. To set this, move the corresponding sliders to YES. Click on Save to save the settings.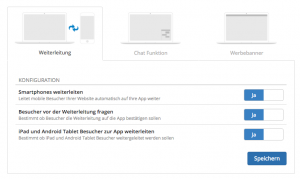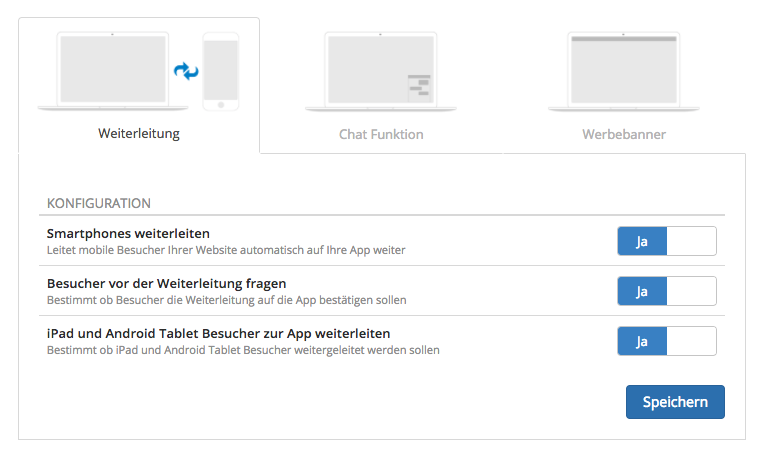 2. Chat Feature
In the second tab you can activate the chat widget on your website by moving the slider to YES. You can also set the color scheme of the chat window. You have light and dark at your disposal. The primary color of the chat widget can be set below. Here it makes sense to use your company color. You have the choice to place the chat widget either on the right or left bottom of your website. Last but not least, you can decide whether the chat icon should be round or square on your website. Click Save to use the chat feature.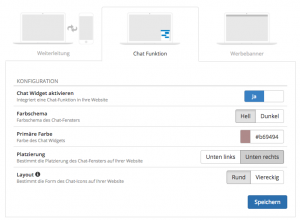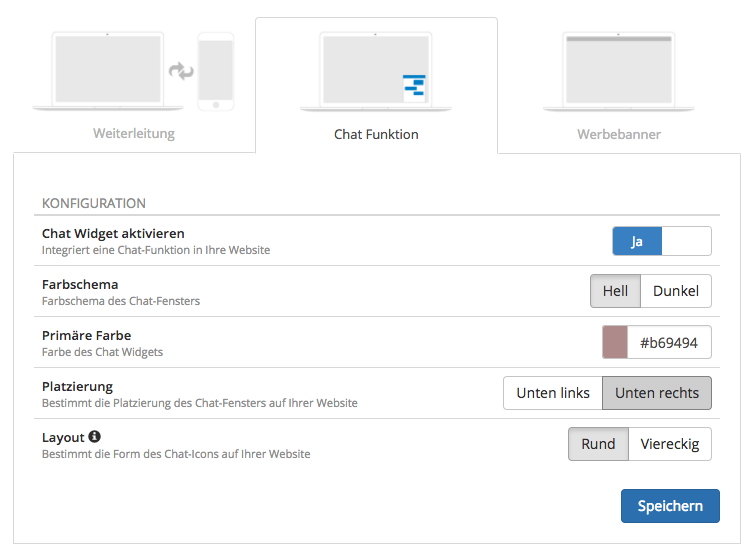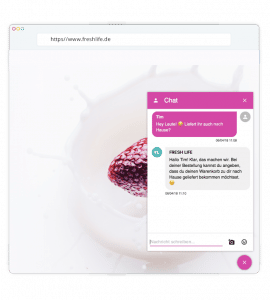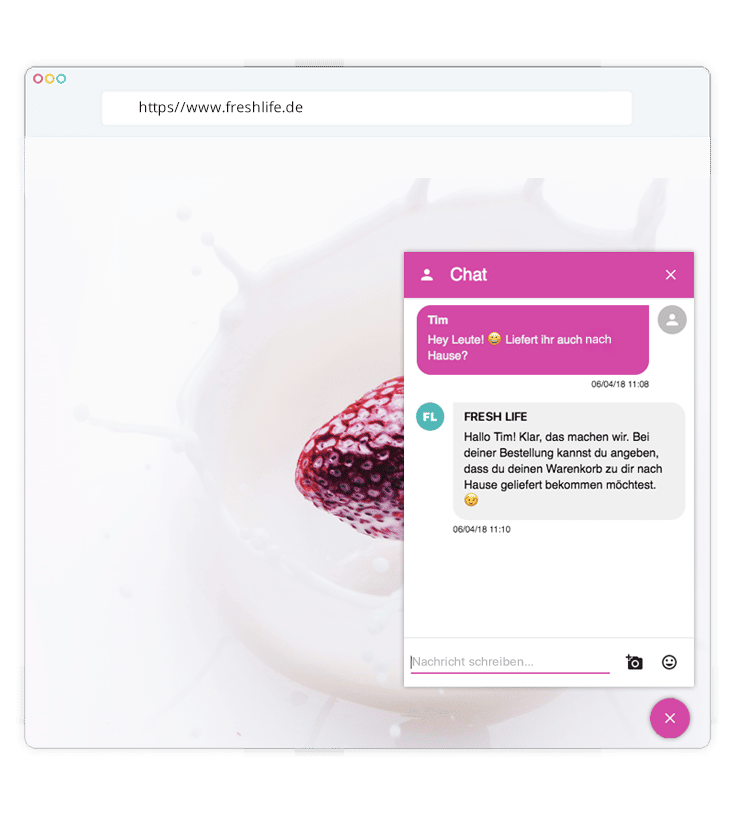 3. Promotion Banner
Under the third tab is the advertising banner. With this you can promote your app directly on your website. This will appear at the top of your website. Slide the slider to YES. You can then specify the main color of the banner. You can also assign a color to the corresponding button. Here it is recommended to use a different colour than that of the advertising banner. Under banner and button text you can enter individual texts to motivate your website visitors to click on the banner. After you have set this, click Save.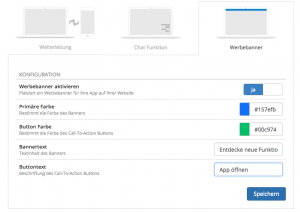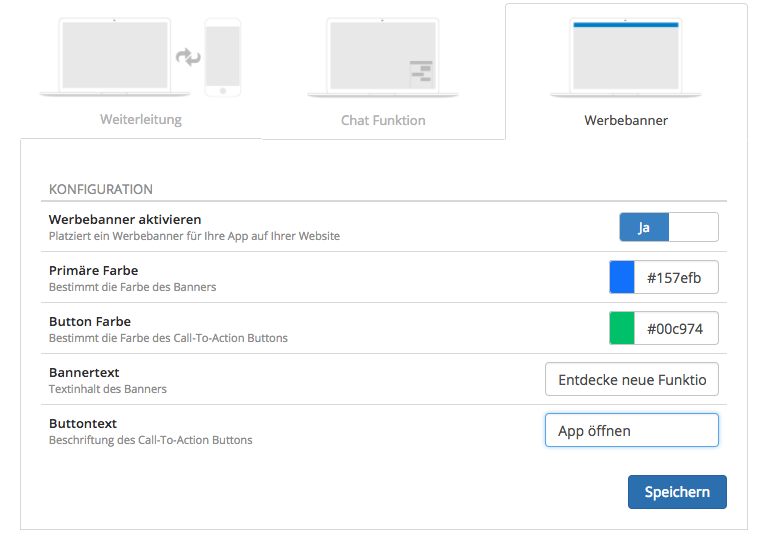 4. Push Notifications
Important
Your website must be HTTPS certified for the push messages to work for your website.
If you scroll down a piece in the Smart Widget area, you will see that you can activate push messages for your site. This means you can send push notifications directly via your website to interested parties and visitors. They reach your users even if they have already left your website. However, before you can do this, you must first download the .js file. Click on Download to start the download. Then add this file to your root directory on your website and save the change. You should also make sure that the URL of this file is publicly available.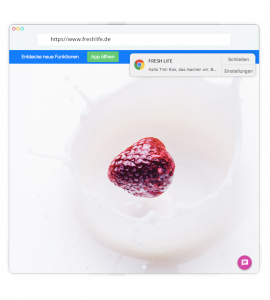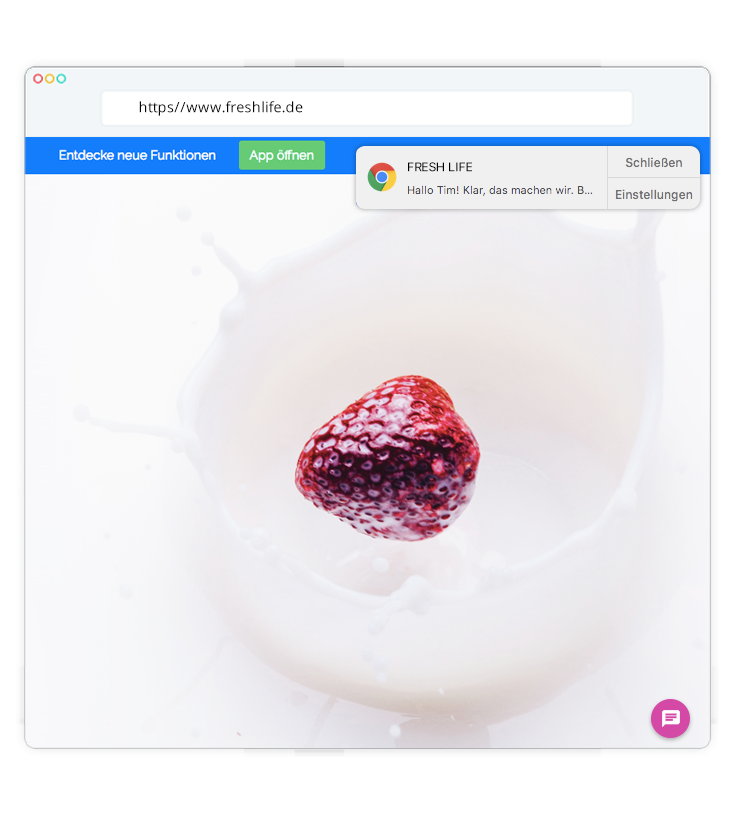 Tip
After you have made your desired settings and confirmed them with Save, it is necessary to publish your PWA or native app again.
Last Update: September 11, 2018
Tell us how can we improve this post?