This is how you can easily create a deeplink between two modules
From now on you can create a deeplink in your app (native and PWA). This means that your customers can e. g. jump from one module to another without having to take the detour via the Back button. Furthermore, it is possible for you to write a chat message and include a link to a specific module in it.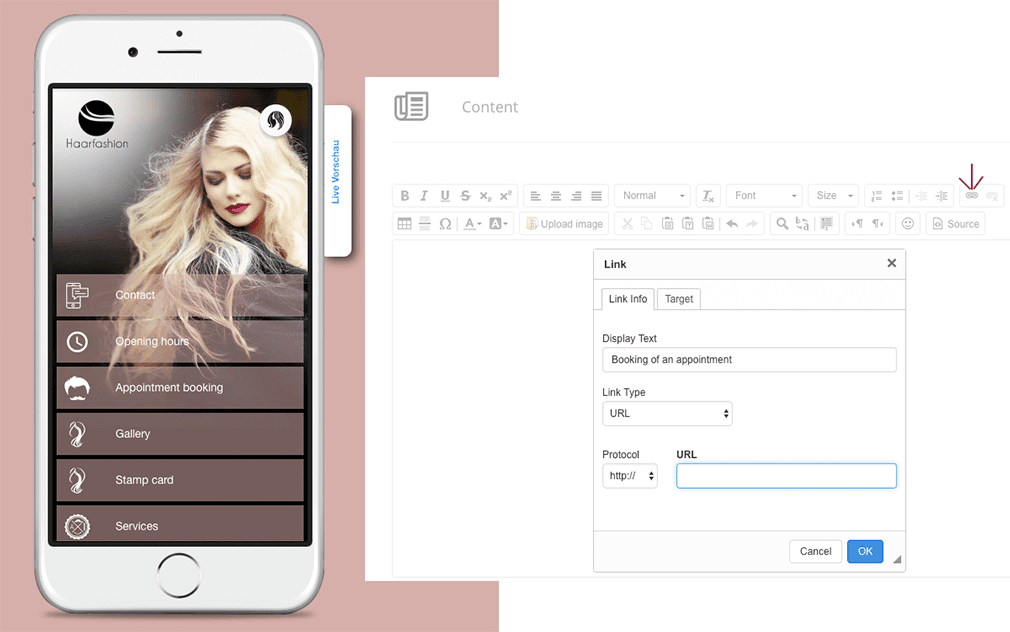 Content module
The content module is best suited for this purpose. You can use it to write a corresponding text in the editor that you want to link to another module. Let's say you would like to combine the sentence: Booking of an appointment with the module appointment booking.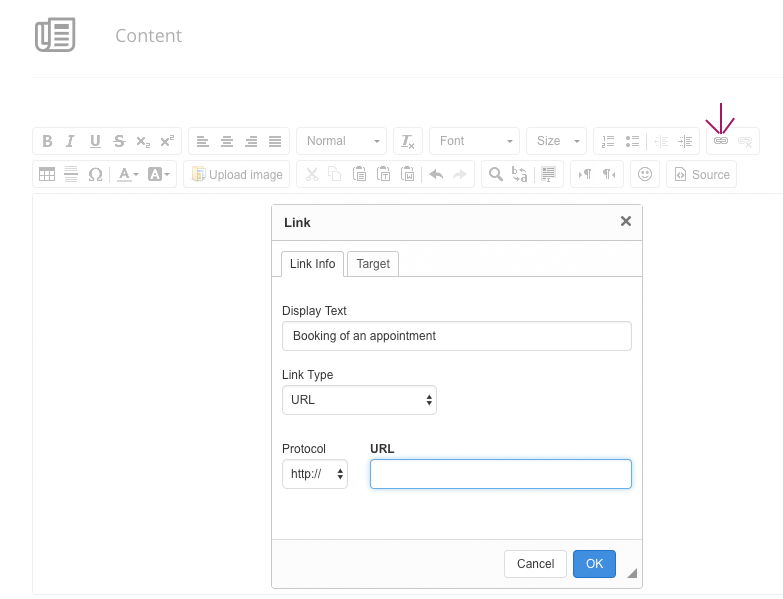 Under Edit > Modules > Create Connect module
Text: Booking of an appointment in the editor
Mark the text Booking of an appointment
Click on the link button (red arrow) and paste the URL in the blue window.
Save your settings
Subsequently, publish the changes you have made
Proceed as follows:
Open Edit > Publish > Publishing status
Go to Web App and click on Visit
Open Appointment booking module
Copy URL of the module Appointment booking
For better differentiation two URL types which can be used are shown below:
Complete URL (from the appointment module): https://beautyklon.apptivate.it/?webapp=true#/module/4202308
Part of the URL (from the appointment module): #/module/4202308
Tip
With the PWA and native app you can copy and paste the complete URL as well as only a part of it (from the #). This is also possible with the native app, but when using the complete URL a new tab is opened in the selected browser of the mobile phone.
Link in a chat message
If, for example, your customer is on your website, you can immediately send him the link to make an appointment via chat. To do this, copy the URL of the app landingpage and paste it directly into the chat message. Your customer can call them immediately and make an appointment with you. Since the links are often very long, we recommend that you shorten them first. One service that offers this is, for example, bitly.com.
Last Update: November 1, 2018
Tell us how can we improve this post?