With the App maker for iPhone you can create your apps in no time and without IT knowledge.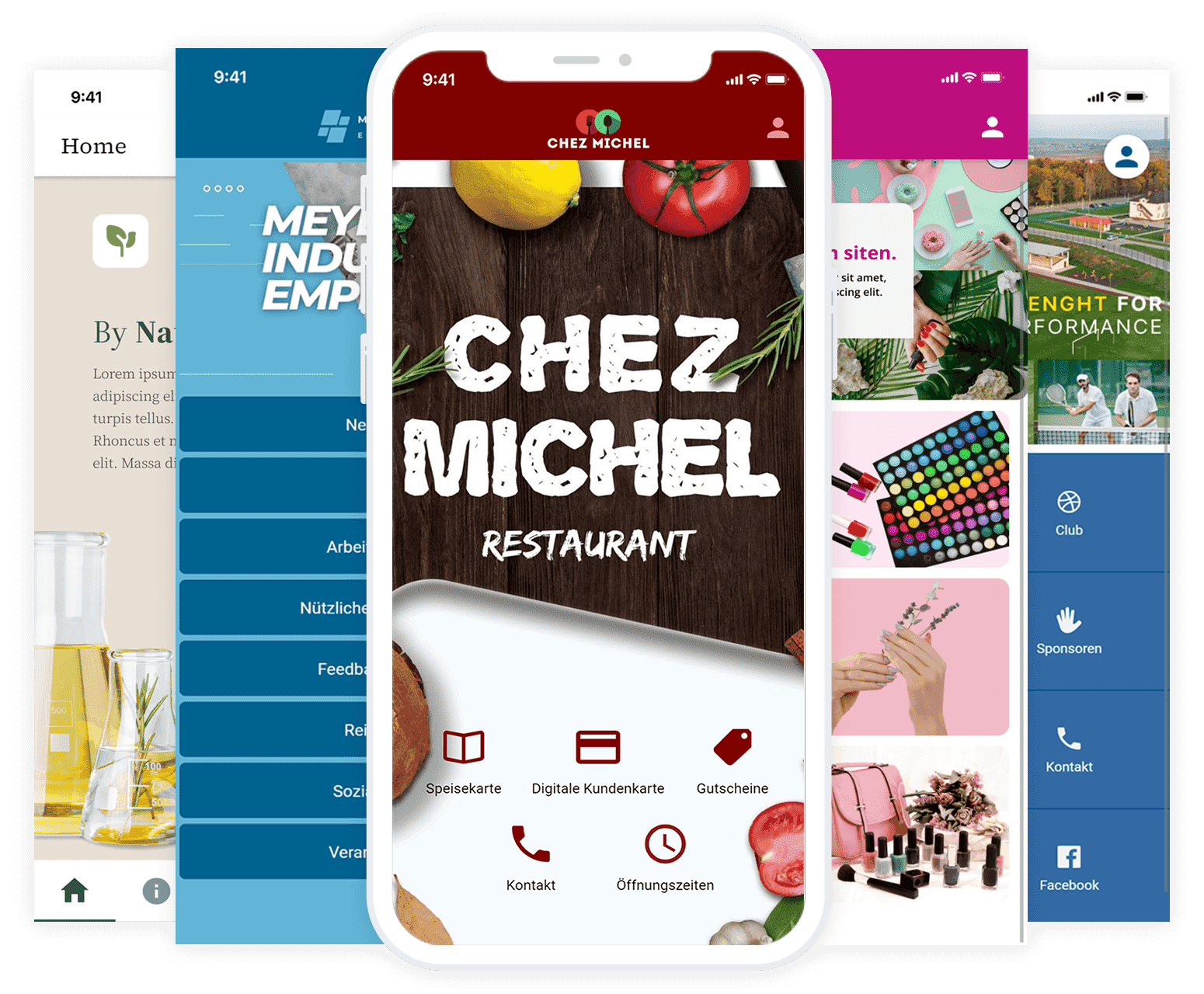 First, you choose the right components for your use case from over 30+ modules. From branch finder to appointment booking to document scanner, you will find what you need for your use case.
The last step is to publish your iPhone app in Apple's App Store. For this you need an Apple developer account and are then a registered developer with Apple! We will take care of the rest for you!
Then choose the right design template and adapt the colours to your needs. With the colour schemes, this can be done very quickly! Further personalisation is done via images, icons and fonts.
Create your iPhone app in a few easy steps
With the iPhone App Maker for the iOS operating system (and Android) you can easily build your own iPhone apps! Without programming! Without an IT project! Without a big budget!
Create your app so it runs on all iPhones!
Your app is created once with the App Builder and is then not only executable on all iOS devices, but also on Android and Windows phones.
And we make sure it stays that way! We take care of technical updates and ensure compatibility with new devices and operating system versions.
However, besides the smooth technical operation, it is the content of your iPhone app that counts! Therefore, we support you in a free concept consultation with the preliminary considerations for your app.
Create your own app for iOS – with the App Maker!
Are you thinking about programming your own iOS app? However, app development for iPhone apps is complicated and rather reserved for app agencies and developers and you would have to dig deep into your pocket to be able to create your own iOS app? Not quite! You don't have to have an expensive iOS app created – with our system, you can develop your own iOS app without needing any programming knowledge. Just try it out and get started with iPhone app development.
All the basic functions needed to support companies in customer support and to acquire new customers are already available in our App Maker. A selection of app templates, e.g. for restaurants, beauty and wellness and e-commerce, is available to create your own app for the iOS system.
The App Builder is also very popular with agencies for prototyping in order to be able to deliver results very quickly. Basic app functions can be discussed with the customer after just 15 minutes.
The modular apps run on all three major platforms: iPhone, Android and Windows Phone. The design of the apps can be flexibly adapted and individualized. Image templates, font uploads and your own icons offer further possibilities to represent your brand in the app. We are also happy to support you in the creation and design of your app.
And should any questions arise, our friendly customer support is available to you in German and English.
Free & without obligation
Clarity and a good concept are the key to a successful app. In just 15 minutes you will learn how it works!
Then arrange a consultation now, in which one of our app experts will discuss your app idea with you personally and answer your open questions. Simple, fast and uncomplicated.