Create your iPhone app without coding.
Create your
iPhone app

without programming.
With the app maker for iPhone you can create your apps in no time and without IT knowledge
.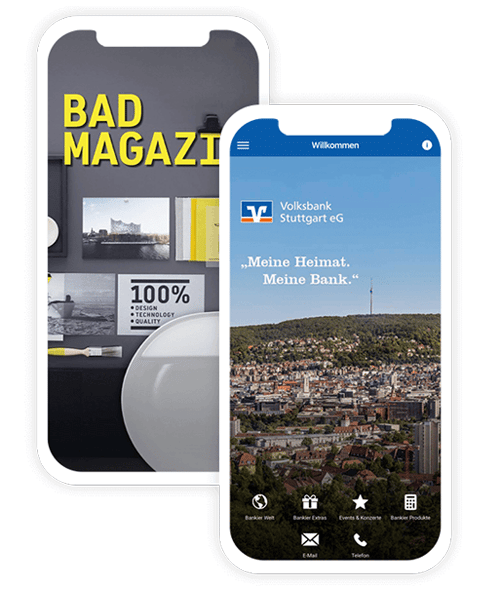 In just a few steps
create an iPhone app

.

With the iPhone app maker for the iOS operating system (and Android) you can easily build your own iPhone apps! Without programming! Without an IT project! Without a big budget!
In 15 minutes, learn how easy it is to create an iPhone app.
Analysis of your app idea and individual use case
Tips & tricks on what matters when creating an iOS app (e.g. Apple App Store guidelines)
How to create your iPhone app without any programming knowledge using the app builder
Which marketing tools the iPhone app maker comes with

In 15 minutes you'll learn how to create an iPhone app.
Discussion and analysis of your app idea and individual use case
Tips & tricks on what is important when creating an iOS app (e.g. Apple App Store guidelines)
How to create your iPhone app without any programming knowledge using the app maker
Which marketing tools you can use for app marketing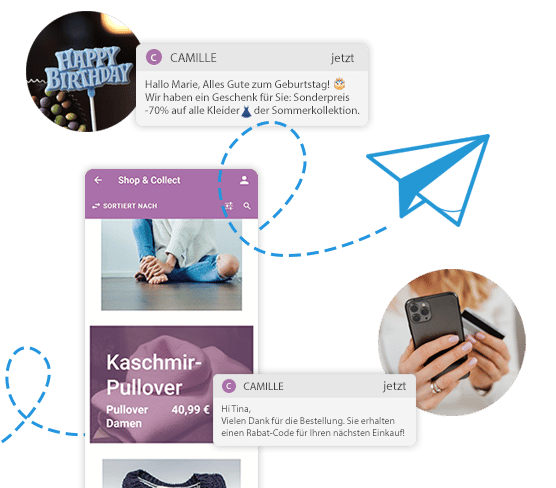 Develop iPhone apps for all iOS devices!
Your app will be created once with the app maker and will then not only run on all iOS devices, but also directly on Android and Windows Phones.
And we make sure it stays that way! In the background, we take care of technical updates and ensure compatibility with new devices and operating system versions.
But apart from smooth technical operation, it's the content of your iPhone app that counts! That's why we support you in a free concept meeting with the preliminary considerations for your app
.
Call us at 030 – 60 98 19 790
Quick results with the app maker
All the basic functions needed to support companies in customer support and to acquire new customers are already available in our app maker. As an impulse for what is possible with the iPhone app maker, app templates, e.g. for driving schools or gastronomy businesses, have already been worked out.
The app maker is also very popular with agencies for prototyping, in order to be able to deliver results very quickly. Basic app functions can already be discussed with the client after about 15 minutes.
The modular apps can be run on all three major platforms: iPhone, Android and Windows Phone. The design of the apps can be flexibly adapted and individualised. Image templates, font uploads and your own icons offer further opportunities to represent your brand in the app.
And should any questions arise, our friendly customer support is available to you in German and English.
How much does an app like this cost?
A completely customised app project can quickly cost €50,000 and more! Don't worry, with AppYourself you get that for a fraction of the cost in clearly calculable monthly plans.
But anyway, you can test the app maker for iOS and iPhones free of charge and absolutely risk-free. Because the test period ends automatically!
Do I need an Apple PC?
No. You create your app comfortably in our app maker. We take care of the technology. That's why you don't need an Apple computer to develop iPhone apps with AppYourself.
Is it possible to have your own design?
Yes! You can design your iPhone app according to your individual ideas. Menu structures, colours, images, icons, fonts and much more can be adapted quickly, simply and easily.
What programming skills do I need?
None, You can use our iPhone App maker to create your app without any programming skills.
How long will my app stay up to date?
That depends on you! Technically, we take care of all updates and ongoing operation and ensure that your app is always compatible with old and new iPhone models.
In terms of content, however, it's up to you to activate your users with exciting content and actions. But our marketing tools will help you with that, too!
On which platforms does the app run?
Your app will always run on the other major operating systems Android and Windows Phone – even though it may only be intended as an iPhone app at first. Compatibility is ensured by our app platform in the background!
All set for your iPhone app development?
So why wait much longer when you can test the iPhone app maker directly risk-free and free of charge?