Your own app instead of
mobile website!
Same function, but with your own app icon permanently present on your users' smartphones. More free advertising is hardly possible!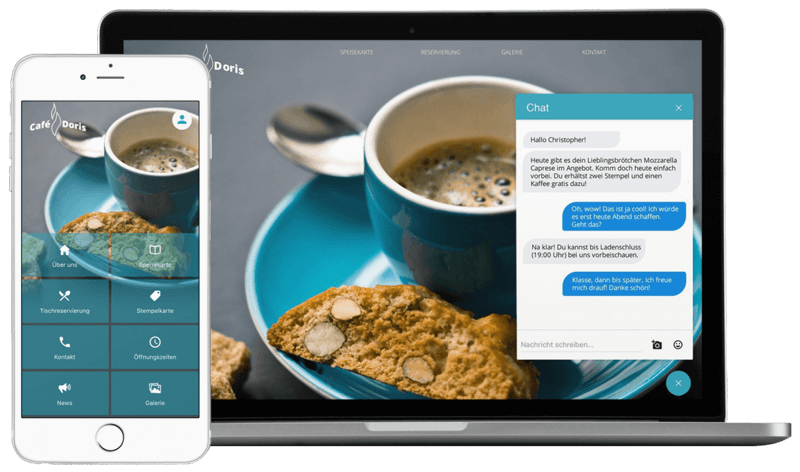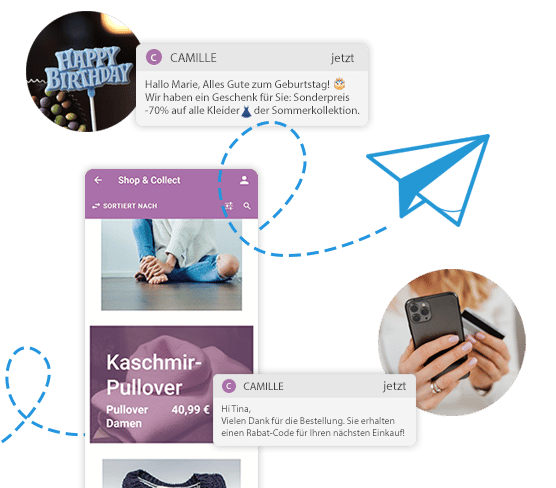 Next step:
own app

instead of mobile website
For cost reasons, there has been no alternative to a mobile website for most businesses. With AppYourself, your own app is now affordable for everyone!
However, a (native) app has numerous advantages over the mobile website:
Availability even without WLAN
Always visually present to your users with your own app icon
Direct activation of users through push notifications
Using the native functions of the smartphone operating system
and much more ….
Free advice from the app expert
In 15 minutes we explain how to actively engage users with your app instead of passively waiting for them.
Advantages and disadvantages: mobile website vs. native app
Discussion of your individual use case
Omni-channel presence and addressing via campaigns
Live to see how our platform works
Your advantage:
native app and web app

in one package!

With the uncomplicated app maker from AppYourself, you get native apps for Android and iOS and the web app in a favourable plan price!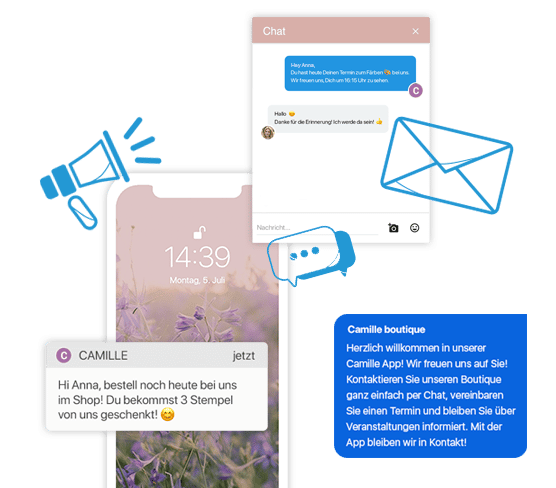 More than just a
mobile website

!
Our native/mobile apps are just one half of our app platform. With the communication-strong backend with LightCRM, campaign tool and marketing automation, you can actively manage your customer relationships via your app.
.
Instead of "waiting" for visitors with a mobile website, you can actively address and (re-)activate your users with the app. Through push notifications, automated campaigns and much more, your "mobile website" becomes the right marketing tool that generates additional sales for you!
Creating a mobile website. These are your advantages:
Of course, you can also communicate your content to your customers via a mobile website. But with the app, you can even actively interact with your customers!
In addition, by integrating the app into the operating system, you can use many functions of the smartphone to digitize processes, actively address customers, offer location-based services and much more …
Talk to us about your ideas! We advise you strictly confidential, without obligation and free of charge! Simply book an appointment with the app expert above!
Or test the app builder free of charge and without any risk (test ends automatically)!
FAQ Mobile website and web apps
How much does a native app for Apple and Google cost compared to a mobile website?
With us, an app is not a major project! With the app maker, we offer different plans for different usage needs. Here you can find our prices.
How do users see if they haven't installed my app yet?
We recommend that you direct user flows as follows: anyone who calls up your website on mobile is automatically redirected to your web app with almost the full range of functions. However, the user gets the hint to download the native app (for Apple or Google) in the respective store to use even more functions and to benefit from exclusive offers.
Small incentives (e.g. a 5€ coupon) increase the download rate immensely and you "collect" many users for your future (and then absolutely free) direct marketing campaign!
What programming skills do I need?
None! With our app builder you create your mobile app without programming skills or your IT department. This also makes your own app a real alternative to the limited mobile website.
Does my mobile website get an individual design?