The app for beauty, wellness and cosmetics. With appointment booking, marketing tools, coupons and much more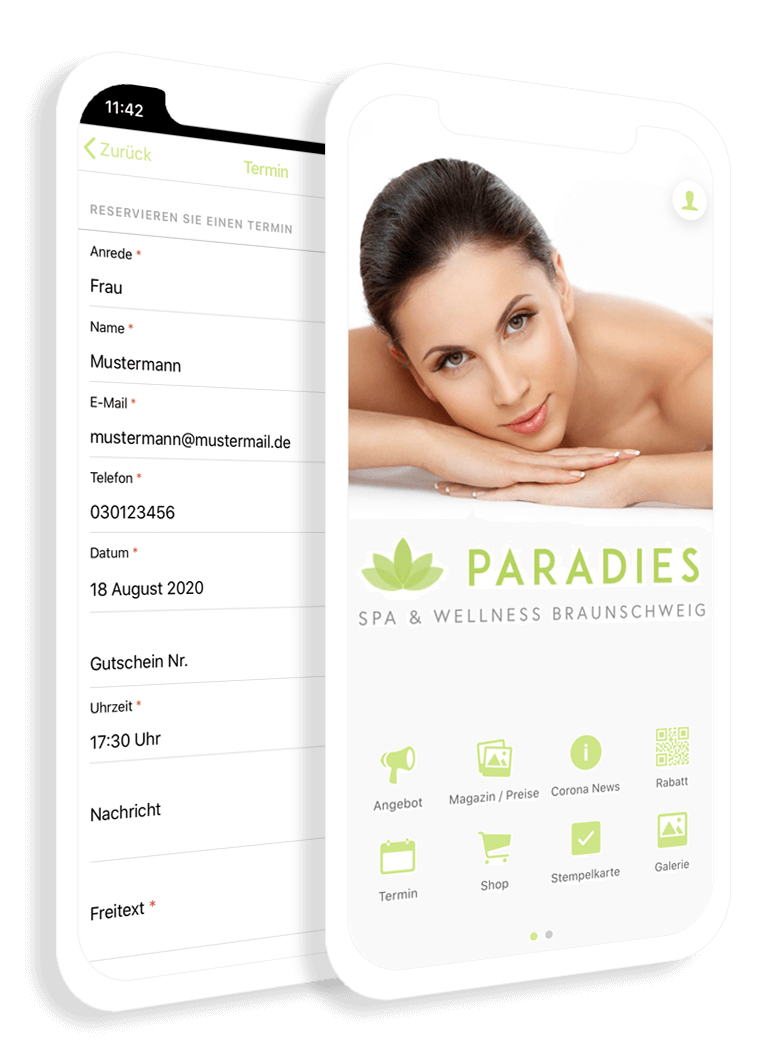 Activate and bind customers for more sales with the app!
With the App Maker and the easy-to-customise template for the beauty industry, you can get started with mobile customer relations quickly and easily.
Secure yourself a piece of "prime real estate" on your customers' smartphone. Be in the consciousness of your customers every day with your app icon and open up a new sales channel. Be it with mobile appointment bookings, the shop module or coupons and stamp cards. Even automated via further marketing tools.
What you use of it is up to you – because it's your app! In your design, with your range of functions!
Many functions for more customer loyalty
You can activate the following modules directly in your app. But you decide on the exact scope of functions. We will be happy to advise you on this free of charge and without obligation.
Spa & Wellness Paradies Braunschweig
The Spa & Wellness Paradies uses the app to communicate with its customers. The varied offer – from massages to cosmetics – appeals to customers visually and promises pure relaxation. Booking an appointment also offers further convenience for customers, as this can be done directly via the app. A virtual tour of the salon invites you to walk through the premises so that a first impression can be gained. Take a look here at what apps can do for the beauty industry.
We provide our customers with a constantly changing offer in the app. The push messages function is perfectly suited for this.
How quickly you can create your beauty app
Create your individual beauty app
In our dashboard you can add your services as a module in your own app. But also all additional content is possible with Beauty Apps: photos, videos, stamp card, vouchers, information about your studio and the team or events... Everything your beauty heart desires!
Customize the design according to your ideas
You can use templates or create your very own design! You can upload your own images and fonts and customize the colours. If you don't have the time or desire to customize the design, we are happy to offer you our design service.
Publish and promote the app
Publish your app on Google and Android so that it can be downloaded to all smartphones. Then it's just a matter of telling your customers and reaping the benefits!
Test the App Builder free of charge
Just try it out free of charge. If you have any questions about the App Maker and the beauty app templates, please contact us!
Activate your customers with push messages
Beauty apps not only allow customers to book appointments, but you can also send push notifications directly to their smartphones. This is a great way to promote offers – attract customers to your studio!
Lacking ideas on what to share with your clients? Then here are a few examples for you:
…and it works automated! Address individual users or user groups based on their behaviour. How this can look like?
Our partners for beauty apps





Free & without obligation
An app that has a good concept will also quickly get into the beauty hearts of your customers. In just 15 minutes, you'll learn how it works!
Then arrange a consultation now, in which one of our app experts will discuss your app idea with you personally and answer your open questions. Simple, fast and straightforward.