Get to know us and become part of the team!
Around 25 dedicated "Appies" work every day to make the world a little bit more mobile for everyone – regardless of large marketing or IT budgets.
Whether in software development, customer success, marketing or the other functional areas – in cross-functional teams we work on common goals across locations and functions.
Through this networking of the functional areas, we have a real understanding of the work of the other colleagues. As a result, we find better solutions and have fewer frictional losses in our cooperation.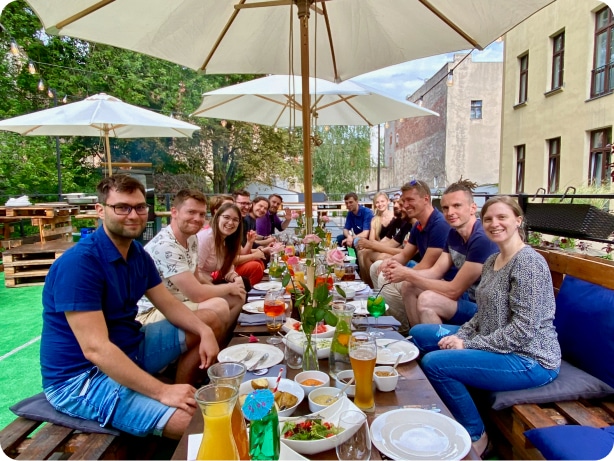 With three locations in Berlin, Hanover and Lodz (Poland), we are present all over the world with over 3,500 apps. Over 2.5 million users regularly use the apps from our customers!
In addition to the permanent locations, we work with permanent service providers in an international network with partners in the UK, Ukraine, Russia, India and other countries.
So at AppYourself, the world is at home. If you want to work in an international context with exciting people and different cultures, you've come to the right place!
Founded over 10 years ago, we want to make the world a little more mobile for all of us and, above all, strengthen the bond between customers and companies. For this to work, smaller establishments without big marketing or IT budgets in particular need a cost-effective way to create mobile apps.
And to really help the many great restaurateurs, hairdressers, service providers, craftsmen and entrepreneurs, the whole thing has to work quite simply alongside their day-to-day business and without programming.
And that's exactly where we come in with the App Builder: Do-it-yourself in Apps is AppYourself.
Our software as a service is constantly being developed and will become the leading app platform in the next few years – with you in the team, of course!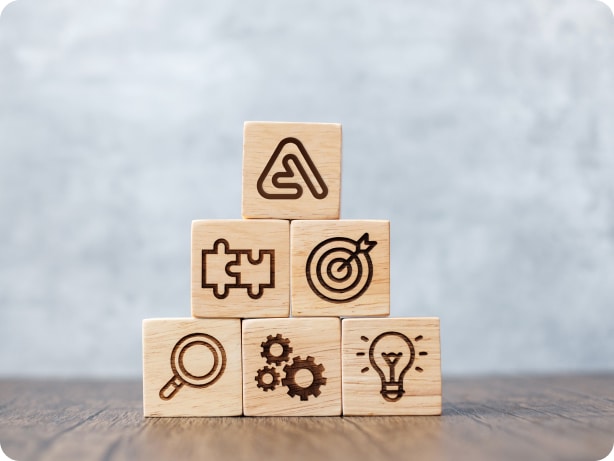 We currently have the following vacancies at our Berlin location:
We don't have any job openings at the moment
Digital Marketing Manager (m/f/d)
We welcome unsolicited applications in the areas of marketing, sales and customer service and also offer semester-long positions for working students in these areas.
Please send your application to: jobs@appyourself.net
Do you have any questions about our vacancies, or would you like to submit a speculative application?
Our standards for cooperation
Work takes up a lot of time in everyone's life – be it on site in the office or remotely in the home office. That's why we have made it our maxim to shape our working lives in such a way that we enjoy going to work and create positive experiences and routines together. The following principles guide us in the organisation of our work.
We are convinced that if you enjoy doing something, you will do it with full enthusiasm. And only then can you grow with your own area of responsibility and constantly improve! Therefore, we ensure the best possible matching of tasks and work preferences!
Enjoyment of responsibility
We are a small company where every team member counts. Therefore, ownership of one's own area of responsibility is very important to us! You don't have to do everything yourself, but everyone is responsible for ensuring that their own area of responsibility grows and flourishes.
You can spend the whole day doing all kinds of things and go home in the evening totally tired. Well, but did one achieve something? Was one just "meaninglessly busy" or did one achieve a result, an impact? We are looking for people who love the result and put up with the journey to achieve it – not the other way round!
The joy of mutual support
Following the maxim: "Nobody can do everything", we work in cross-functional teams and support each other. If you can't do something, it's not a problem (see learning culture)! We simply get support from colleagues and learn something along the way. Making mistakes together is learning together!
Error culture Learning culture 
Making mistakes together is learning together! That's why mistakes are part of our daily business. But what exactly is a mistake? In any case, it is important for us not to repeat the same mistakes and to turn our mistakes and failures into a constructive process of learning.
Laugh more and complain less
The world out there is often unfunny and lonely! Therefore, it is important for us to cultivate humorous togetherness and have fun at work. That doesn't mean partying 24/7 or not giving constructive criticism, but celebrating humour in everyday life! But there is also the odd party …