Let your app work for you
Your business fully automated
Acquire, retain and bring back customers: with our marketing automation makes your business app all of this for you automatically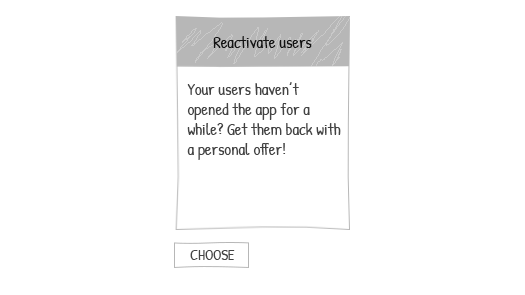 You can automate all of this
Welcome your new app users and website visitors and motivate them to contact you right away.
Your customers haven't been with you for a while? Get them back with a personal message and an individual offer!
Your customers canceled their order? Get them to complete the order with this automatic campaign.
Your users have started a loyalty card, but haven't collected any stamps in a long time? Remind them and place an offer right away!
Thank automatically for incoming inquiries and let your customers know they can contact you via chat for further questions.
Your customers have not reserved a table or booked an appointment with you for a long time? Motivate them with an exclusive offer for the week.
We have these and many other useful templates for your automated campaigns – it couldn't be easier! This is how your app works for you to make your online business even more successful.
Create your own automated campaigns
You can also create campaigns customised to your business. Automate your own processes and promotions. No matter the occasion – there are no limits!
Define the users you want to reach, write them a suitable message and get started. The campaign then runs automatically with your business app.
What is marketing automation?
Our marketing automation is a tool of the business app, so that you can send automated, but still individual messages to your app users. Whether immediate or scheduled – that's up to you.
Can I specify who should receive my campaigns?
You can define in advance which app users you want to reach with your campaign. Once you have done this, you can specify for this group whether everyone should receive the message or only a certain part of that group.
How many campaigns can I run at the same time?
This depends on which plan you have ordered with us:
– the starter plan includes a campaign
– in the premium plan you have five campaigns
– and in the enterprise plan you can create 20 campaigns
You can find more information about the plan on our pricing page.
What are campaigns and what can I do with them?
Campaigns are messages created by you that you can send to your app users. They reach all users who have the same characteristics, e.g. the last time online four days ago. Various filters help you to find, select and reach them immediately. Find out more about the campaigns in our Knowledge Base.
Can I see who got the campaign?
As soon as you have created a campaign and sent it to your customers, you can see in your dashboard under campaign management who received it and which customers opened your message.
Can I schedule the campaigns?
Sure, you can schedule your campaigns or send them immediately to your users.
It can happen that the number of customers to reach varies when you start the campaign at a later time. For example, you create a campaign to encourage your users to register in your app. If your users have done this before the campaign starts, they will automatically drop out of the campaign and the message will only be sent to users who have not registered in your app yet.