Let your app stand out from the crowd
The app market is highly competitive. Meanwhile there are about two million iOS Apps in the Apple App Store and about 2.5 million Android Apps in the Google Play Store. Many of these apps combine similar features or can be used similarly. Therefore, it is all the more important to stand out from the sheer mass of apps with your own. The so-called ASO (App Store Optimization) helps you to achieve this. What this is and how you can use it successfully for your app, we will now shed light on.
ASO (App Store Optimization): what exactly is that?
The App Store Optimization has two main goals:
Increase search traffic of your own app
Increase conversion
Search Traffic means that your app is easier to find in both App Stores and is listed at higher positions in the search results. The conversion describes the download numbers. Users who are convinced of your app will also install it on their smartphone. To achieve these goals, ASO (App Store Optimization) combines important steps that you can take for your app.
Steps for ASO: making your app a success
Before we take these steps, it's good to know that ASO (App Store Optimization) is only successful if you understand who your target audience is and how well you know them. Based on this knowledge, you can then build an appropriate ASO strategy with matching keywords. For the ASO both Apple and Google offer you several possibilities. There are a few small differences between the two big companies, but basically the ASO (App Store Optimization) works the same for both.
Differences between Apple and Google
Ranking Algorithm
The ranking algorithm is designed differently for Apple than for Google. Although keywords are important for both (we come to them the same way), they are treated differently. The Apple App Store gives you a field to specify your keywords. The App Store also makes suggestions about possible keywords that might be relevant to you. The Google Play Store works just like Google itself. In other words, it looks at all the text elements in your app to read and index the matching keywords.
Ranking factors in both app stores
Keyword optimization
How do I find the right keywords?
As already mentioned, only Apple offers you the possibility to find suitable keywords for your app. However, you can refine or adapt these suggestions by using various online tools to find even better keywords. Of course you can also use these tools for your Android App to get more suggestions.
What we recommend for Apple's keyword field
You have 100 characters available for the keyword field. You should pay attention to the following:
Use individual keywords (no Long Tail Phrases)
separate keywords with commas (do not use spaces)
Don't repeat keywords that are already present in the app title
Singular Form and do not use plural of nouns (saves you characters)
Recommendations for keywords for the Google Play Store
Use individual keywords
Use Long Tail Keywords or phrases
Include mid tail keywords or phrases
Keywords max. 3-5 times in the long app description place
App Title
The title or name of your app is the first thing users see when searching the App Store and is an important ranking factor for both App Stores. Therefore, it is important that the name reflects exactly what users were looking for. To do this, you should insert a suitable keyword as the title itself or as part of the entire app name. Apple offers you 30 characters for the app title and Google 50 characters. For both, however, you don't put any special characters or category names as keywords in the app title. For example, a Sudoku app belongs to the category game and should therefore only be called Sudoku and not Sudoku game.
App Description
The app description should give the user an impression of what he can achieve with your app. "Informative" and "easy to understand" are the two keywords. It is present in several places in both App Stores and differs in its length. You will find them once within the search results as a short description. Once you select an app from the search results, you will be taken to its profile page in the App Store. A longer description can and should be stored there to increase the motivation for a download. For both App Stores you can use a maximum of 4000 characters for the long description, also emojis or enumerations can be inserted.
Keywords in the description as ranking factor?
For the Google Play Store, both the short and long app descriptions are the perfect places to place matching keywords, which are then used for indexing. For Apple, the app description isn't that relevant, but it's still a good idea to add one to show the user the added value of your app right from the start.
Country-specific keywords
Apple and Google have country-specific stores that are accessed by users worldwide, depending on where they are and what language they speak. So you can customize your keywords for these country-specific stores. Users from Italy will use other keywords – in their native language – than users who speak, for example, English. This allows you to influence not only the ranking and visibility, but also the number of downloads of your app.
App in multiple language versions
In connection with the country-specific keywords and stores, it is also a good idea to build your app in several languages. If your app is also to be launched on the international market, it must be adapted accordingly. This process is called localization. It is best to use your "first" app version here, e.g. in German, and create languages for this additional app. For this you can use your existing data like keywords, screenshots and metadata, e.g. app name and simply transfer them into other languages. This also affects the visibility in both App Stores and automatically enlarges your target group. In addition, an app in your native language always looks more trustworthy than an app in a language that the user normally doesn't speak or only rarely speaks.
Visuals for App Stores
App Icon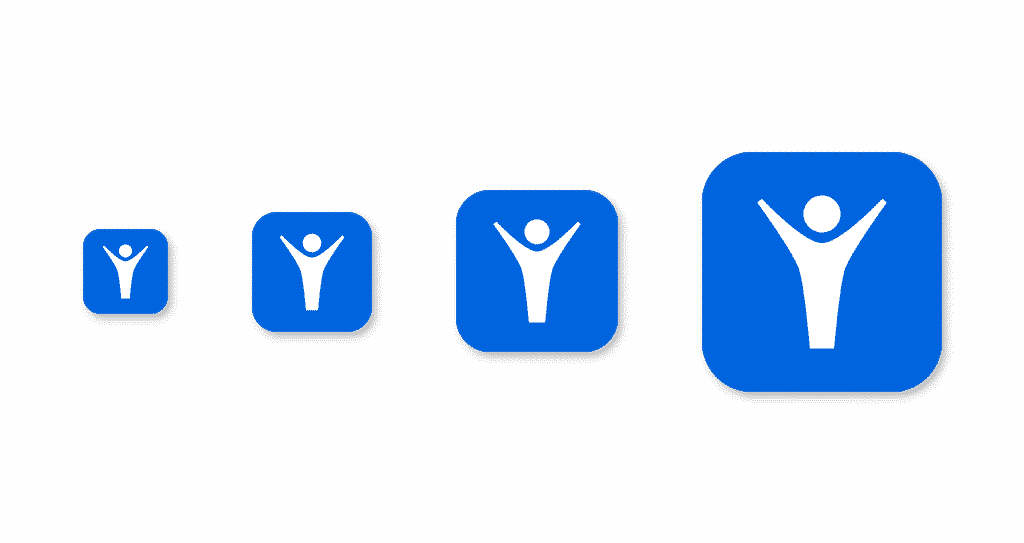 The app icon is also very important next to the app name and decides if users find your app interesting enough to download it. The icon should combine four essential aspects:
Uniqueness: it should differ from other icons
Recognition: memorizes the user and he knows immediately which app or company it is
Scalability: the app icon should always be available in best graphic quality even in different sizes
Consistency: app icon and profile should be consistent (this also has a positive effect on recognition)
In addition, you should refrain from using fonts or words for your app icon. A pure figurative mark is sufficient.
App Screenshots
Screenshots of your app give you another visual presence on Apple and Google and are an excellent way to tell a story about your app. They are intended to make it clear to the user that your app solves exactly his problem. Apple lets you use up to ten screenshots, while Google lets you use eight. The screenshots appear in the search results and are prioritized in the App Profile as soon as the user taps one of them. The former screenshots are designed to help strengthen the user's decision to take a closer look at the app. The screenshots in the App Profile should encourage the user to be explorative and learn more about the App.
Promo- or Preview Video
On your app profile in both App Stores you can also add a short video to your App. The video should be consistent with the rest of the appearance in the store (app icon and screenshots). It's best to show two or three essential functions and the use of your app, but avoid exaggerated or too distracting animations.
Other factors of the ASO (App Store Optimization)
Infos about new updates in the description
It is also important that you include updates and improvements to your app in the description. This is the case, for example, if you re-submit your app to the App Stores due to a required update or change. Comments on further submissions or updates to your app will indicate that you maintain and service your app at regular intervals.
Number of downloads and deinstallations
You should always keep an eye on both the number of downloads and the number of uninstallations in order to implement improvements or changes with App Store Optimization. This includes the number of monthly active users of your app. If this number is low, there can be many reasons, e.g. dissatisfaction with the handling of the app or your app has a bug that needs to be fixed.
Quantity and quality of app ratings and ratings
App Ratings (star rating)
We also know Ratings inform von Sternen from our shopping experiences in online shops. Currently only the Apple App Store offers an in-app rating. Google will follow soon. So users can directly express their satisfaction in the app. A plugin, which can be integrated into the app and performs the query, helps here. It is interesting to note that dissatisfied users are more likely to give their feedback than satisfied users (negative effect). In order to get an answer from satisfied users, you should start the rating in moments of success, e.g. after activating a feature. Within one year, however, the rating query should not exceed three times.
App Rating (written)
Written reviews are also a big factor to increase the conversion of your app. As with rating, you should not overuse the query of a written rating and query for moments of success. Under no circumstances should you write your own ratings. These should absolutely come from your customers or users. After all, your users may have a completely different view of your app and can help you optimize your app with their answers.
ASO (App Store Optimization): important point at the end
But don't forget one thing: ASO (App Store Optimization) is not a one-time process. There is always something to improve on your appearance in both App Stores. Of course this doesn't mean that you have to change the app title or the icon every month. But maybe after some time an optimization of your app description and the adaptation of your keywords is necessary. The same applies for example to the app screenshots. If you change the design of your app, you should also update your screenshots in both app stores.
Sources
Buildfire: https://buildfire.com/ultimate-guide-to-app-store-optimization/
App Radar: https://appradar.com/academy/what-is-app-store-optimization/
AppAnnie: https://go.appannie.com/rs/071-QED-284/images/1908-App-Store-Optimization-Definitive-Playbook.pdf
TheTool: https://thetool.io/aso-app-store-optimization