Apps as another source of income for companies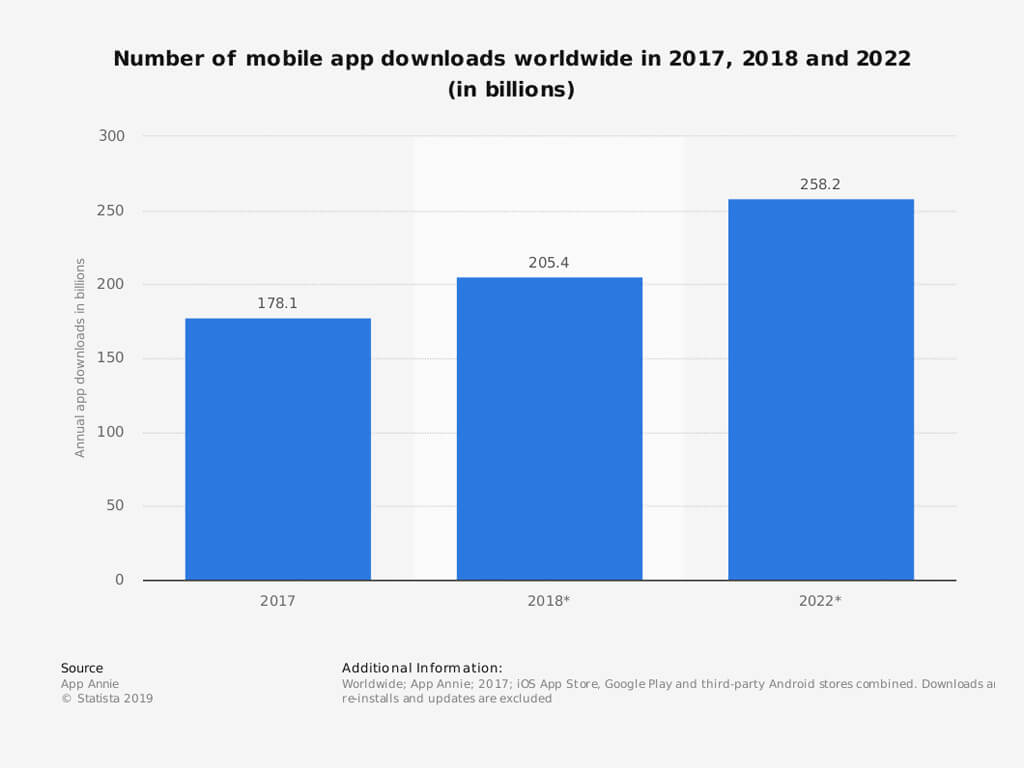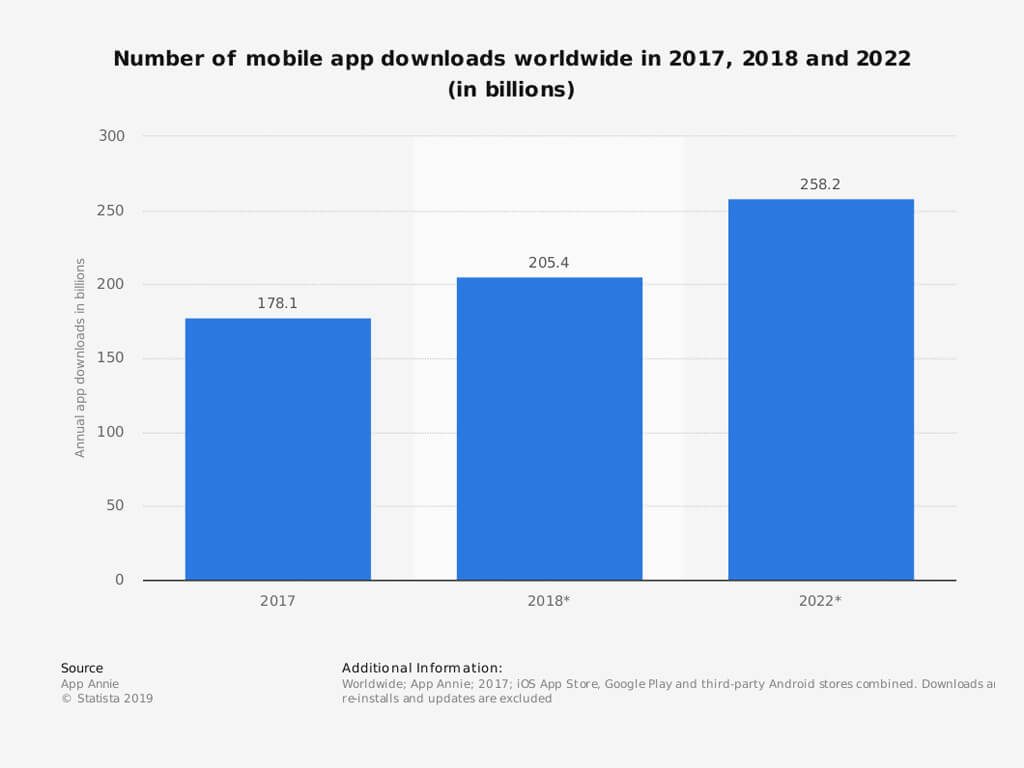 Over the years, downloads of apps have increased steadily. According to Statista, in 2022 258.2 billion apps will be found on mobile devices worldwide 1. This figure sounds tempting, but high download and user numbers don't necessarily lead to monetizing apps or, more simply: earning money with apps. Unfortunately this thought is still anchored in many companies. The fact is, however, that only with a good strategy can app monetarization be promoted. Depending on the business model and use case, different app monetarization models can be used. With the right model, the app changes from a customer communication tool to another source of income for companies.
App Monetarization: which models are there?
Two of the best known models for app monetisation are the Freemium and the Premium model. In 2019, the share of so-called Freemium apps in both App Stores was far higher than in the Premium apps. As Statista has established, 90 % of all apps in the Apple App Store are available as free versions. The remaining 10% are paid apps.2 In the Google Play Store, the proportion is even higher: 95.6% are free apps and 4.4% paid apps are in the store3.
Freemium Model
Monetizing apps in this model is done according to the following scheme: Users can download apps free of charge, but receive a limited range of functions. An example is the music streaming service Spotify. This model can often be found in gaming apps to get higher levels or special items. To be able to use all features, an upgrade to a higher version (Premium) is necessary. As the above graphic shows, Freemium apps are very successful, as there is no hurdle to pay for an app before trying it out.
Premium Model
The premium model (Paid Apps) requires users to pay before downloading. In order to earn money with apps, they must have very special functions and offer users added value. This must be clearly visible, otherwise no user will voluntarily download these apps. It is therefore not surprising that the percentage of such apps in both App Stores is very low.
Subscription Model
This is the oldest model for app monetarization. The pioneers were newspapers and magazines that put their offers online. As a non-subscriber, only a certain number or sections of an article are available to the user. Once they have chosen a subscription, they can take advantage of the entire offer without any restrictions. Today the subscription model is mostly used by streaming services like Netflix 9.
In-App Purchase Model
Users can make a purchase directly in the app. The special thing about it is that they do not leave the app and are redirected to an external website. This has a positive effect on the user experience and is a successful monetization strategy for earning money with apps. Especially Freemium apps use this model to exchange virtual goodies for real money. Since the purchase is made directly in the app, all purchases can also be tracked better. In 2016, Gartner, TechCrunch and Statista published a statistic that showed the total worldwide turnover through in-app purchases from 2011 to 2017. While in 2011 it was only 721 million dollars, in 2017 the turnover already amounted to 36,887 million dollars4. AppAnnie predicted in 2018 that user spending on in-app purchases worldwide would exceed $76 billion (20% more than in 2017)5. Possible In-App Purchases are e.g:
App allows the user to hide advertisements by upgrading them
In a game the user can get items for a certain price
Subscription for an online newspaper or magazine
In-App Advertising Model
Over time, digital advertising has been used more and more often by companies to monetize their apps. In the USA, for example, between 2017 and 2018, expenditure on in-app advertising increased by 20% 6 . It is estimated that more than $186 million will be spent on in-app ads in 2020. This is mainly due to the fact that usage patterns for smartphones have changed dramatically. Today, users spend more than three hours per day 7 on their mobile devices. In-app advertising in particular is one of the most frequently used ways of generating additional revenue via the app. This model is used for both Freemium and Premium apps. Different ads (in size and form) are displayed directly in the app8. A selection of the ads can be seen below:
Banner Ads: usually placed above or below the screen – often used
Interstitial/Full Screen Ads: Ad that fills the entire display. Mostly placed during transitions from one menu to another or when content is paused for a short moment
Native Advertising: the app displays not only non-commercial content but also advertising when scrolling – less annoying perceived by the user
Notification Ads: appear in the middle of the mobile device – users become more attentive to the ad. But users can also quickly feel disturbed by them
Video Ads: either as Interstitial Video or as Pre-Roll Video (the advertisement appears before the actual video)
It is crucial that companies define some basic ideas in advance: How do ads give their users a better, not a disruptive, user experience? Which ads do customers prefer? Which ad should reach which target group? Or how can the ads be traced back to the corporate brand?
Sponsoring and Partnership to earn money with apps
Companies can enter into partnerships with other companies that have a similar portfolio or almost the same customer group. In this way, customers of one company can easily be made aware of the other company's service 8. This can be achieved e.g. by placing In-App advertising in the company App A. Customers of company B see these and are encouraged to also download the app of company A.
Which app monetarization model is the best?
That cannot be said in general terms. Depending on which business model a company pursues, it is decided which model leads to the goal of monetization. Nevertheless, one important point should not be forgotten: a monetization model to earn money with apps does not work if the app is not valuable for the user. Therefore, it is imperative to give users the best possible user experience. Interesting and new content as well as valuable app content help maintain user engagement.
Searching for the right model for the App Monetarization?
You want to earn money with apps too? We at AppYourself are happy to support you in developing individual monetization options. Together we work on the appropriate model – tailored to your business and use case – and implement it for you. Simply contact us via e-mail, telephone or chat.
Sources
1Statista (2019): Number of mobile app downloads worldwide in 2017, 2018 and 2022 (in billions), URL: https://www.statista.com/statistics/271644/worldwide-free-and-paid-mobile-app-store-downloads/ [13.08.2019]
2Statista (2019): Distribution of free and paid iOS apps in the Apple App Store as of June 2019, URL: https://www.statista.com/statistics/1020996/distribution-of-free-and-paid-ios-apps/ [13.08.2019]
3Statista (2019): Distribution of free and paid iOS apps in the Apple App Store as of June 2019, URL: https://www.statista.com/statistics/266211/distribution-of-free-and-paid-android-apps/ [13.08.2019]
4 shoutem (2017): Money-making Machines: Overview of Top App Monetization Strategies, Total worldwide in-app purchase revenues from 2011 to 2017 (in million U.S. dollars), URL: https://new.shoutem.com/blog/2016/11/top-app-monetization-strategies/ [13.08.2019]
5Sydow, Lexi – AppAnnie (2018):
A Year in Review: Mobile Highlights of 2018, URL: https://www.appannie.com/en/insights/market-data/a-year-in-review-mobile-highlights-of-2018/ [13.08.2019]
6Kaplan, Matt (2019): 52 In-App Advertising Statistics You Should Know, Statistics on Mobile In-App Advertising, URL: https://www.inmobi.com/blog/2019/05/21/52-in-app-advertising-statistics-you-should-know [13.08.2019]
7Kaplan, Matt (2019): 52 In-App Advertising Statistics You Should Know, Statistics on Mobile Devices, URL: https://www.inmobi.com/blog/2019/05/21/52-in-app-advertising-statistics-you-should-know [13.08.2019]
8Blair, Ian – Buildfire (o. J.): 10 Ways to Effectively Monetize Your Mobile App, URL: https://buildfire.com/ways-monetize-mobile-app/ [13.08.2019]
9Schranz, Michael (2018): Mit Apps Geld verdienen, wie geht das? URL: https://appswithlove.com/blog/2018/08/24/mit-apps-geld-verdienen-wie-geht-das [13.08.2019]