Be represented on all channels with the Progressive Web App
Progressive Web Apps are better than native apps when it comes to marketing of your own business and the products and services you offer. In addition to the well-known features such as access to device functions, calling via the mobile browser and sending push messages, they have further strengths: they can be forwarded to interested parties via various channels and thus playfully support the marketing strategies not only of large but also of small and medium-sized enterprises. Because that's what it's all about: Value-added content should reach its customers immediately – no matter where they are or what device they are currently using. The better the content is to be accessed, the better it can be brought to the target group or is it willing to forward it on its own. A key advantage that PWA have over native apps. But why? Before a native app user comes to share the app with his friends, acquaintances and family, he has to torment himself through several steps of the app download. As a result, it is not surprising that 20% of users jump off during search, download, installation and use. The Progressive Web App, however, does not have to go through these steps and can be used and shared immediately.
In addition to call it in the browser or via Google, we would like to show you further ways in which the Progressive Web App can reach the targeted target group quickly – both under the Android operating system and iOS.
Call pwa via URL

Google: your friend and helper

Scan the QR-code

Integration of a pwa to external websites

Share the PWA through messenger services
---
1. Call pwa via URL
As you can see in the graphic above, simply enter the URL of the Progressive Web App in the search bar of the mobile browser. It will be ready to use – with all its features. The following screenshots show this with the Fandango Progressive Web App, which is used to purchase cinema tickets in the United States:
2. Google: your friend and helper
Whether via the mobile browser or directly via Google: enter the name of the company/app in the Google search bar. Then by clicking on the displayed entry, mobile website visitors are forwarded directly to your PWA. The better your website is positioned in the Google ranking, the better your Progressive Web App will be. Again, the PWA from Fandango is used: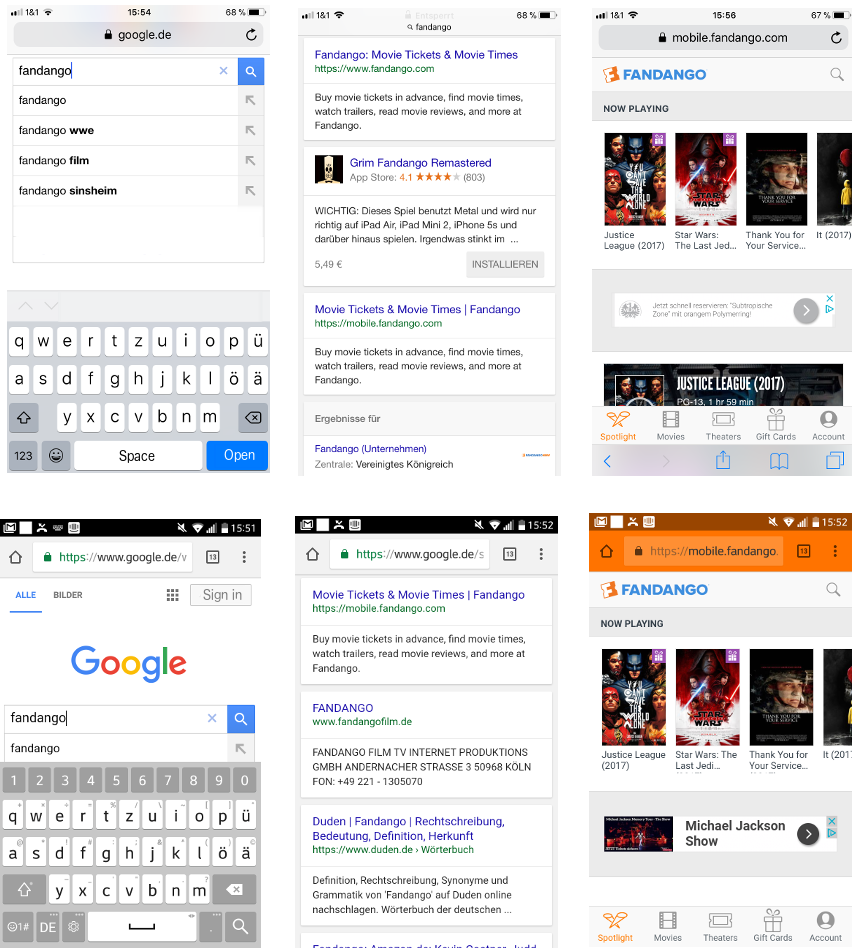 3. Scan the QR Code
Bring a QR Code of your Progressive Web App on a variety of promotional materials. Whether poster, flyer, business card, newsletter – your imagination knows no bounds. Your customers do not even need a QR scanner app, meanwhile it is even possible under Android and iOS to read and scan QR codes directly via the internal camera.
4. Integration of a pwa to external websites
In addition to your own website, which you can connect to the PWA, you certainly have a social media account on which you are represented? Facebook, Twitter, yelp, Trustpilot? No problem, simply add the URL of your PWA (for example, as a call-to-action button) to these appearances, and if you click on them, you will be automatically redirected to the Progressive Web App.
5. Share the PWA through messenger services
Do you use WhatsApp or another messenger to communicate with your customers? To send individual offers and promotions? You can also use it to send the URL of your Progressive Web App. Your customers have another role to play in this. They not only call the PWA but also help you publicize it. They do it by forwarding it to friends, acquaintances within the family – online word-of-mouth easy and efficient!
Conclusion
As you can see, you can easily and quickly connect to your desired target group via Progressive Web App. That's how you make it possible to talk more, to significantly expand your customer base and to intensify the relationship with your customers.