Three become one – users jump off faster
It's no secret that many users leave mobile websites quickly when their loading time exceeds the hardwearing limit. Until now: users jump off the website when it takes more than three seconds to load. Now that has changed, according to Think with Google DE* users seem even more "impatient" and turn their backs on mobile websites when it takes more than a second to load. A joint study by the Mobile Marketing Association (MMA) Germany and Google on website loading speed showed that out of 250 most visited mobile websites, only eight are fully built in or less than a second.
Too long to load? Decline in conversion rate
So it's no wonder that many users jump off quickly and turn to other mobile websites – usually the competition. But what does this mean for companies whose mobile websites take more than a second to load? According to MMA's above-mentioned study, this rapid jump-off is also accompanied by a decline in the conversion rate. The conversion rate can drop by up to 50 percent.
Mobile websites in Germany: Status Quo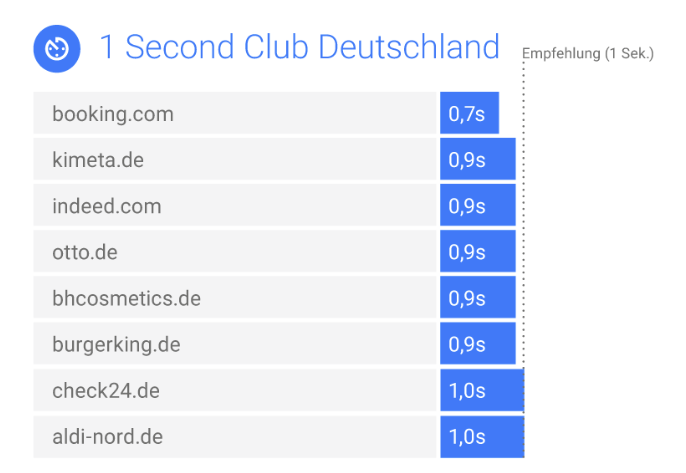 Source: Think with Google DE* – Chrome User Experience Report (Germany, 4G, April 2019), GfK SE (unique users in 2018, 250 domains)
In total, only five percent of all German websites load within a second. The booking portal booking.com takes first place with a loading time of 0.7 seconds. The taillight is aldi-nord.de with exactly one second.
Germany in an international comparison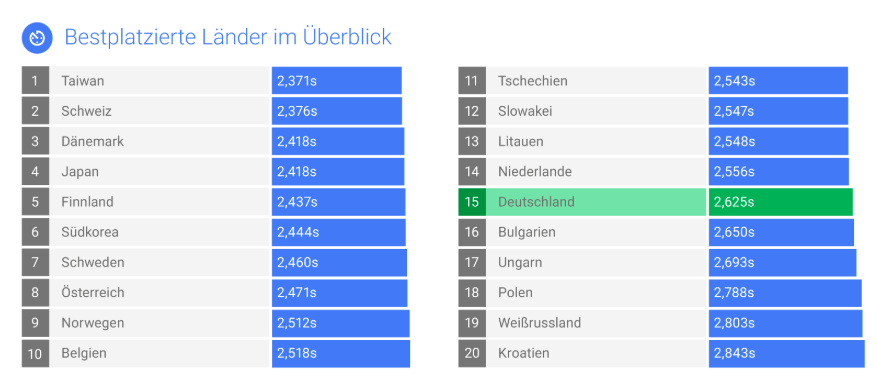 Source: Think with Google DE* – Chrome User Experience Report, 4G, 6 Millionen Domains, April 2019
Germany also lags behind in an international comparison. It is in 15th place in the midfield here. On average, German mobile websites take 2.6 seconds to load completely.
Why companies should not underestimate the loading time
Quite simple: 69 percent of Germans use their mobile device to shop online. This high figure should encourage companies to invest in optimizing the performance of their mobile websites. It is also interesting to note that loading times also affect the success and turnover of stationary shops. According to Think with Google DE** 62 percent of Germans research the Internet in advance before purchasing a product in a stationary store.
Source
Think with Google DE*
Think with Google DE**
Onlinemarketing.de
Google Developers