Smart Widget: your own website as an app
A company already has a website and would like to make loyal customers from anonymous site visitors? No problem, with the Smart Widget from AppYourself, smartphone users are automatically redirected to the apps – whether native or Progressive Web App. Simplified: the apps are integrated into their own web presence. All modules and known functions like camera and push messages can be called and used. Companies can now attract visitors who visit the website via their smartphone quickly as an app user. In addition, the Smart Widget is characterized by an additional feature: Companies can integrate a messenger on their website to chat directly to people on the desktop site via chat messages.
Insert Smart Widget into the site
With few clicks it can be integrated into the website. It is to be found in the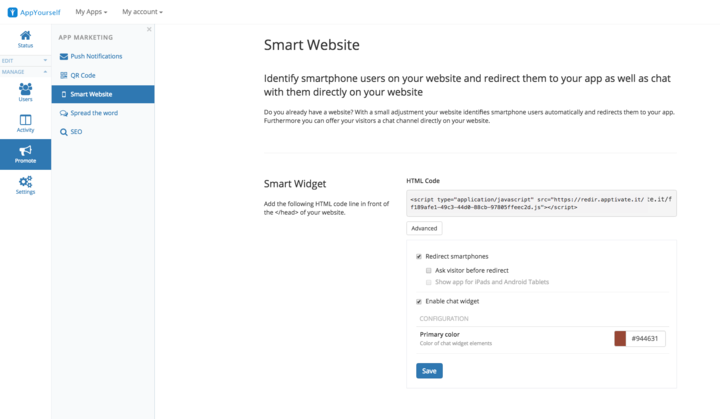 Reach everyone with it
Companies are supported by the SmartWidgets not only to reach a certain user group, but to all users alike. Whether desktop, smartphone or tablet users – anyone interested can call the company website via their favorite device and experience a flowing usage behavior, which looks and feels like an app. More traffic and a higher range are achieved by the integration. Well known customer loyalty measures such as the digital stamp card can be used to make visitors to loyal customers.