The user limit for all app plans
The three plans Smart, Business and Enterprise have another component: the user limit. Each of these plans has a different number of active users. For a better overview we present the plans again:
Maximum number of active users per package
Smart: up to 2,000 active users
Business: up to 2,000 active users
Business+: up to 2,000 active users
Enterprise: unlimited* active users
What is the difference between active and inactive users at the user limit?
Since one or the other asked the question of what active and inactive users are, let us briefly explain the difference between these two types:
Active users
Active users are users who have been activated in the customer management system and who can be contacted via chat and push messages and edited via the user list. You also have access to the respective user behavior in order to send your users individual offers and actions via the App.
Inactive users
These are users who have exceeded the selected user limit or have been deactivated. For example, if you have booked the Smart plan with 2,000 users, the 2001st user will automatically be an inactive user. Although it appears in the user list, it can use your app with all modules, but it will not be addressed by you via chat and push notifications. However, under Promote > Push Notifications, it is also possible to reach inactive users.
Note
Plans from an older portfolio may have included less activatable users. If you have an old plan and need more users for your app, feel free to contact our support.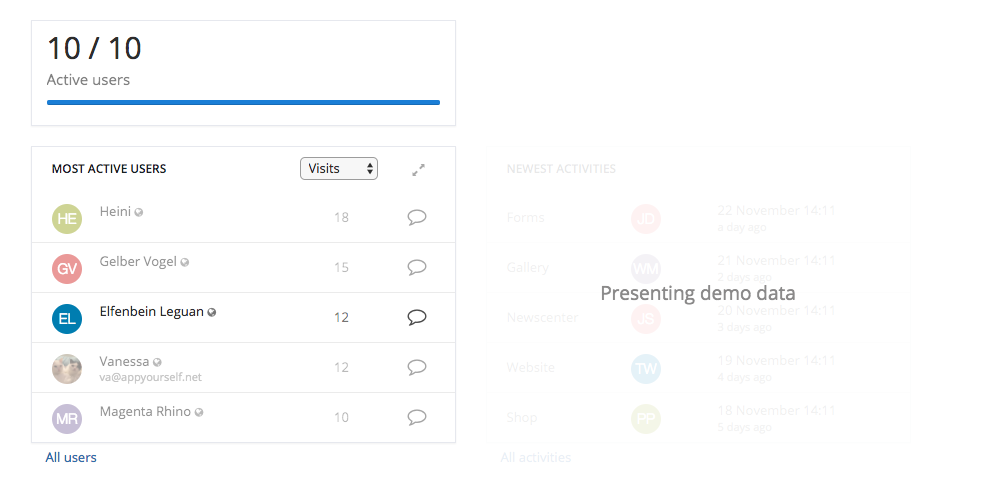 The user limit and customization in the app dashboard
More information
Click here if you would like to know the difference between a user and a visitor of your Progressive Web App and native app.
*According to our Fair User Policy, the Enterprise plan contains 50,000 active users. If you need more users, please feel free to contact us at any time.