The chat widget to chat on your own website
Your own website as a figurehead is an ideal way to present the company and the people behind it. But your customers want more than just looking around the website. They want to talk to you and tell you questions or problems. Imagine the following scenario: Your customer visits your website and he has several questions that he would like to ask you – at the moment. So what does he do? He is looking for a contact form or the number of the customer support. Many minutes have passed before he has settled his concerns. With a chat widget right on your website, this problem would be instantly erased. He turns to you and you help him with words and deeds. But the best way to satisfy your customers is when you establish your first contact with them. Once he calls your website, you can open chat in your dashboard and welcome him with "open arms." So you immediately create a trusting base with the goal that your customer feels in good hands with you – the chat widget makes it possible.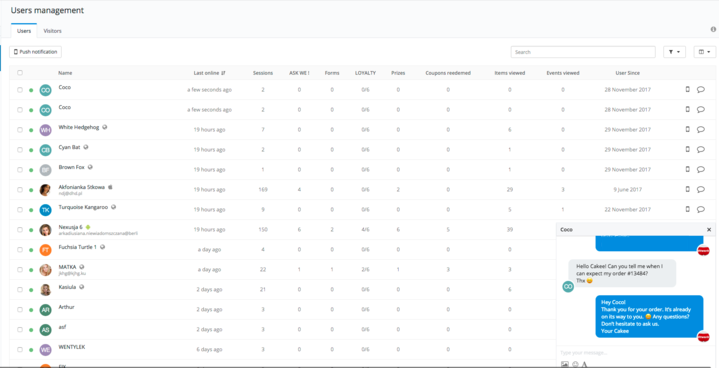 Chat integration in website
That's exactly what AppYourself offers with its chat widget. This small building block can be easily integrated into your own corporate website. If you like, the website will be extended to an interactive messenger function. Find out how to integrate the chat widget into your website here. If you have created your website using a website building system such as WordPress, Jimdo or 1&1, you can read Post Widgets as an extension to your own website in the blog on how to integrate the chat widget into it. Here you can adapt the chat widget to your corporate design, so that it fits into your web presence. When you visit your website, the chat automatically appears in the lower right corner of the screen. This allows website visitors, interested parties and customers to immediately call the chat and chat with you.
The chat widget and the mobile dashboard go hand in hand
But what if you are not sitting at your computer or traveling? What happens to chat messages coming through your website? There is also a solution for this: the AppYourself mobile dashboard which you can access via the browser of your phone. Just answer incoming notifications via mobile dashboard. If a website visitor writes over the chat, it will appear as a push notification directly on your smartphone. You can answer right away, whether you're on the train or on the way to a conference. It does not matter if you support them or send you personalized offers. From the first customer contact is so fast a long-lasting customer relationship, which you can strengthen with various customer retention measures – directly through the chat.