Our best use cases for you
With our App Maker, we serve a wide variety of customers. Our solution fits small businesses as well as chain stores and other medium-sized businesses with very individual use cases. And even the public administration works with apps from AppYourself.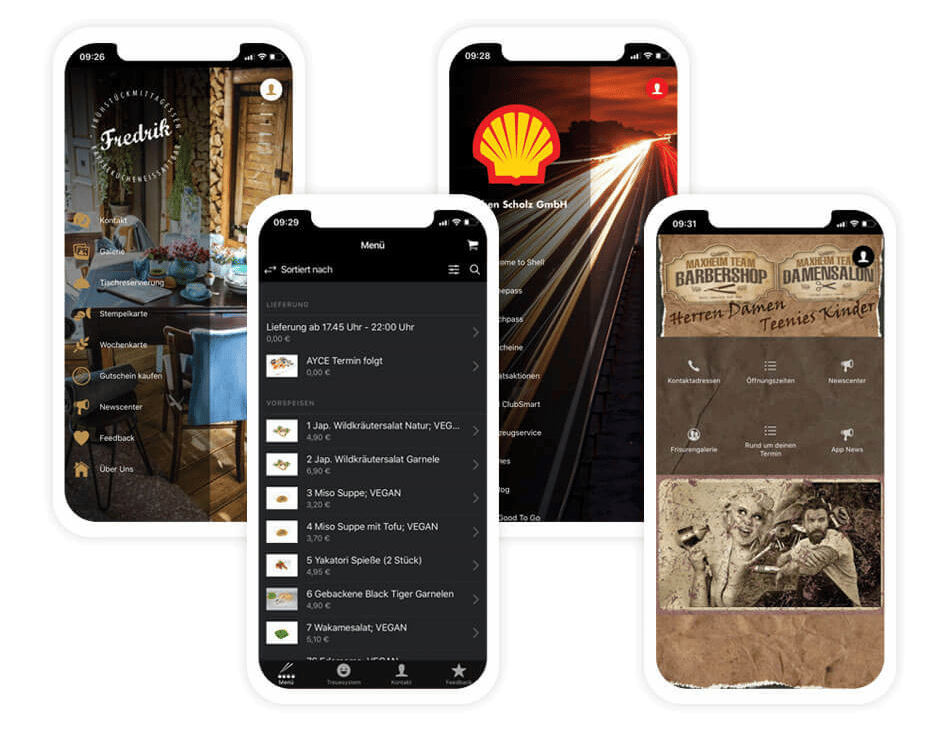 With 30+ ready-made modules, you can map your individual use case
All our apps are based on a common app platform. Due to the high degree of standardization and reuse of components, we can offer you ready-made modules for common app use cases. And continuously there are more! Here are some examples:
Simplify your everyday work and automate your appointment booking by integrating your appointment booking solution into the app! And if you don't want to assign appointments automatically, configure the booking forms as appointment requests.
And to minimise appointment cancellations (so-called "no shows"), you can remind your customers of booked appointments via push or chat message. And by the way, you increase customer loyalty and tap into mobile sales potential via the integrated shop, vouchers, etc.
We've all been there: the 10th coffee is free! It's just stupid when the customers have forgotten or misplaced their stamp card. The effect is lost and the presence with the customer is gone. This is different with the digital stamp card app!
With your app, not only does the customer always have your stamp card with them, but you are permanently present with your app icon on the customer's smartphone! This ongoing reminder keeps you in your customers' minds.
Increased plannability through table pre-orders makes everyday work in the restaurant much easier. The right quantities can be procured and the right staff can be assigned.
The table reservation via the app creates this planning capability for you. And if you do have cancellations ("no shows"), you can activate regular customers about spontaneously available tables via push notifications or chat messages!
Delivery service or click & collect
Save yourself expensive commission with the usual delivery service apps and transfer first-time customers to your own app in the long term – as a delivery service or to pick up yourself.
In combination with the shop module, individual delivery areas, different fees and many other options, it can also be used for click & collect beyond the gastronomy!
Test now simply & without obligation
The free trial period for your use case ends automatically. No payment information required. Do you have any questions? Then take advantage of our expert advice!
Free & without obligation
Personal app consultation
Create the right app for your use case with AppYourself. Find out how it works in just 15 minutes!
Then arrange a consultation now, in which one of our app experts will discuss your app idea with you personally and answer your open questions. Simple, fast and uncomplicated.