With a few clicks to a gastro app
Tailored to your restaurant
Your own gastro app, with the functions you need to get through any situation well
The Corona pandemic affected almost all sectors and made us rethink. If we look back at this time, those catering businesses that had already built up a close customer relationship and were well connected with their regular customers came through the crisis relatively well. Complementary business models such as takeaway or their own delivery service were at least able to compensate for the downturn in the core business and save sales. With our gastronomy app, we would also like to enable you to survive any situations and circumstances and offer you the right solution for your restaurant.
The app for your restaurant
Developing your own app without programming is possible: with the app platform, you develop your app from standard modules. With the intuitive content management system, you simply maintain and update the app content yourself.
Wine Tasting? Promote planned events easily via the app.
Present and communicate your weekly menu via push message or chat.
Contactless data capture of guests for a safe and hygienic restaurant visit.
Shift schedules for employees
Protected area for employees and their shift schedules.
Inform your guests easily about your offers via push message.
Delivery service & self-collection
Offer order for delivery and self-collection – 100 % commission-free.
The app for your restaurant
The gastro app offers you many advantageous functions – imagine it figuratively:
You are planning an exciting and special event, new and regular customers become aware of it because you present the availability of the new restaurant app on your shop window.
At the same time, you inform your staff about their working hours, you release the menu in the app and the guest data is already recorded for check-in.
After the successful event, your customers want more, and they want to order more often in your restaurant. You make it possible for them by always informing them about current offers via push message and by offering a delivery service or dishes for self-collection, you provide real added value!
How to get an app for your restaurant
Step 1: Registration at AppYourself
You register with us for free and try out our App Maker and features.
Step 2: Contact person
Do you have any questions? Your personal contact will support you in creating your app.
Step 3: Create your app
Create your gastro app with all the required modules incl. protected areas for employees or VIP guests.
Step 4: Get started now!
Get started with your web app right away! The app can also be submitted to Apple and Google.
The right solution for your requirements
Easily assembled with our modular principle
With our modular solutions, you always have exactly the right tool at hand to solve your problem: You want to build your own delivery service, promote your menu or offer digital check-in via QR code? With your own gastro app, you build up reach that you can inform via push messages with new offers in your business.
Your own delivery service
Take orders via app and deliver
With the delivery service module, you'll be up and running in no time and save on agency fees with Lieferando and co. If you don't have a supplier, you can also configure the app so that the food is ordered and paid for via the gastro app.
Goodbye offline menu, hello digital menu!
Offer your guests a hygienic alternative to the analog menu! They order directly via the app and can pick up the food at your location or have it delivered. Promote your changing weekly menu or limited menus with push messages.
Capture guest data contactless and data compliant via QR code
You want your guests to check in contactlessly, hygienically and in compliance with data protection regulations? With the digital check-in of your guests this is uncomplicated and fully within the framework of the GDPR.
Let you customers collect stamps and increase customer loyalty
Customer loyalty is easy with the digital stamp card. Your guests always have it with them and you can combine varied offers from your menu with the stamp card and send them to your guests.
Inspire guests with digital coupons
Coupons are another tool to help you increase customer loyalty. Offer your guests different coupon promotions directly in the gastro app.
Promotional materials for your gastro app
Stickers, business cards, table displays: individual promo materials included
In our Business+ package you get enough promotional materials from us, which you can deposit in your restaurant or add to every order. This includes stickers and business cards on which, for example, stamps for the digital stamp card are stored. Or should it be the QR code for forwarding to your gastro app? No problem, these are included in your app package.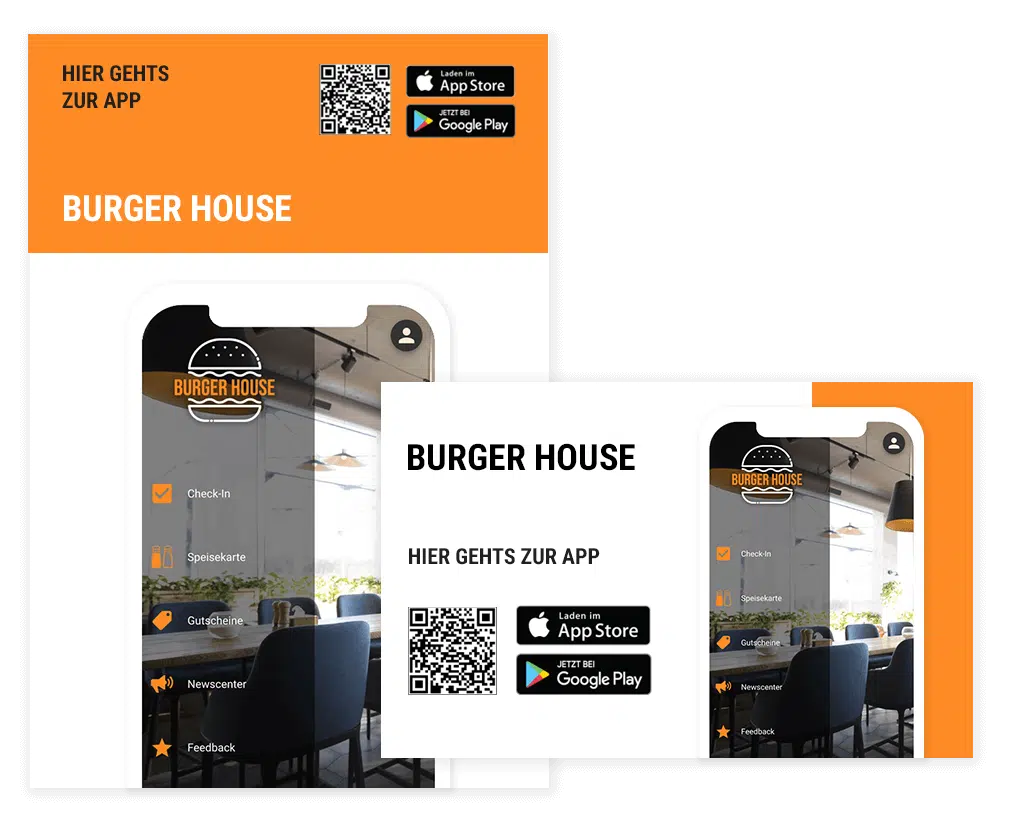 Free & without obligation
You want to adapt your app to the requirements of your restaurant? In just 15 minutes you will learn how it works!
Then arrange a consultation now, in which one of our app experts will discuss your app idea with you personally and answer your open questions. Simple, fast and uncomplicated.