The digital menu in your app
Your app package: the way you need it
With an app you are prepared for any situation
The digital menu in our app package helps you reach your regular customers. You are immediately digitally positioned and can get started right away.
All important modules as well as functions you need can be found in the app. The Google My Business integration places your restaurant in Google search. With the stamp card you increase your customer loyalty. If you want to make changes, for example, updates to your menu, you can do that at any time. Fast, easy and without programming knowledge.
The alternative to the analog menu
The principle of the digital menu is very simple: Your guests order directly from you and contactless via app. The order reaches the kitchen without any detours and is prepared. For your guests, this means less waiting time and your service staff are relieved, especially in hectic times.
Integration with Google My Business
Be found immediately and at any time
We connect the app with your Google MyBusiness profile. This means that you and your restaurant can always be found on Google. Your guests have immediate access to your digital menu, opening hours or can reserve a table.
Promotion of offers and free tables
Do you have a changing weekly menu or a limited offer on your menu? Or still free tables for your theme night? With push messages you or your employees can promote these to your regular guests.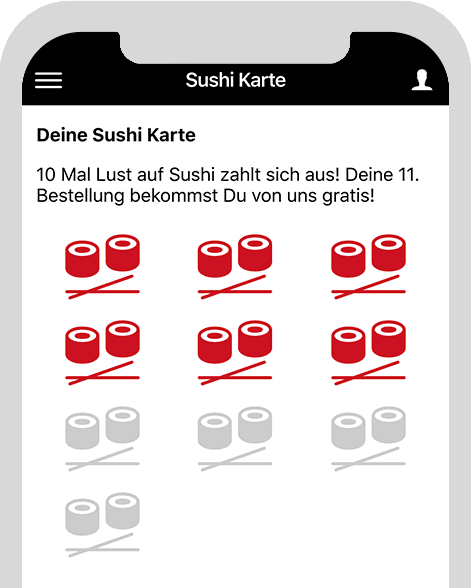 Get more satisfied guests with the stamp card
Customer loyalty made easy
With the stamp card you increase your customer loyalty. For varied promotions, you can use the bonus card to encourage your guests to order from you again and again. You can also send the stamps to your guests via push messages.
Free & without obligation
Not only an analog menu needs a good concept and must be clearly structured, but also an app. In just 15 minutes you will learn how it works!
Then arrange a consultation now, in which one of our app experts will discuss your app idea with you personally and answer your open questions. Simple, fast and uncomplicated.