Keep Customers And Employees Informed
Currently, many companies have closed their doors and managers and employees are working from home – a reaction to the spreading coronavirus. Thanks to video conferencing and other forms of remote communication, it is possible to keep up the daily work routine and to provide both employees and customers with up-to-date information and support. With these small tips and tools, we would like to show you how to keep your customer communication while working from home.
Communication Via Push Notifications And Campaigns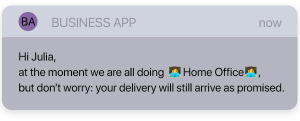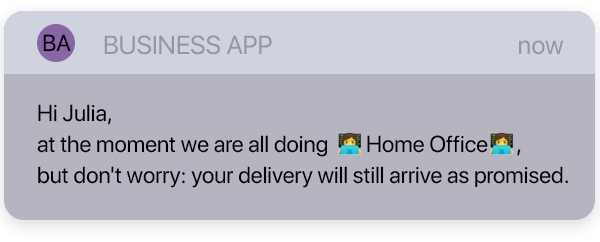 Push notifications and campaigns you have probably used many times to communicate new products or important information to your customers and employees. You can also use them now to inform about news and developments inside and outside your company. This could be changes in opening hours, flexible working hours – see Home Office – or how you deal with deliveries of shop orders in the next few days. For each of your user groups you can set up messages and send them at specific times.
Postpone Possible Appointments While Doing Home Office
Especially in the present time, appointments directly on site can often no longer be kept or must be postponed until further notice. To let your customers know if the appointment is cancelled completely or a rebooking is possible, send them a push or chat message to clarify the next steps. In this course you can also send a voucher or discount, which your customers can redeem at a later date.
Stay In Digital Contact and Healthy!
No matter what you want to communicate inside or outside your company, push notifications and chat messages will help you achieve this. You will be able to maintain digital contact with your customers and employees and have an always up-to-date and transparent customer communication. In this context, we wish you all the best, use the home office if you can, and above all, stay healthy! 🙂